1. The School Information System (SIS)
The school management system was built under the direction of the Minister of Ministry of Education, Youth and Sport (MoEYS). Metfone coordinated with the IT Department and the Department of Education in 25 provinces and schools to implement.
In 2020, Metfone cooperated with the Ministry of Education, Youth and Sport (MoEYS) to successfully implement the system for 150 schools in 25 provinces of Cambodia (digitalization of the data base for 221,000 students; 11,000 teachers; 5,000 classrooms. Due to the Covid-19 epidemic, all schools were forced to close. Fortunately, our SIS system can help teachers and students to continue their teaching and studying as normal by accessing e-Learning via SIS system for making courses. Now there are 600 classes running their studying courses via e-Learning. Besides, we also have completed the integration of online learning system, Chat, Dashboard reports, Digital Books into SIS so that teachers and students can easily use this system to communicate together during the current situation of the Covid-19 epidemic.
The implementation of SIS and the integration of these features bring tremendous efficiency to the education sector in Cambodia towards digitizing teaching and studying in schools, saving a lot of money and as well as improving the quality of teaching. Since the successful implementation of SIS in 150 schools, MoEYS and Metfone have aimed to expand SIS to 850 more target schools in this year until covering over 3,000 schools nationwide. And we hope to reach 3 million students and 20,000 schools in Cambodia in the near future.
2. Features of the system
The School Information System (SIS) is a comprehensive educational solution of Metfone, which enables daily school activities to run more smoothly. School principals can manage schools efficiently, resolve excess amount of paperwork and administrative problems, such as scheduling daily tasks, evaluating school performance, attendance and discipline, designing the curriculum, evaluating students' results, etc. and make better decisions for school future plans.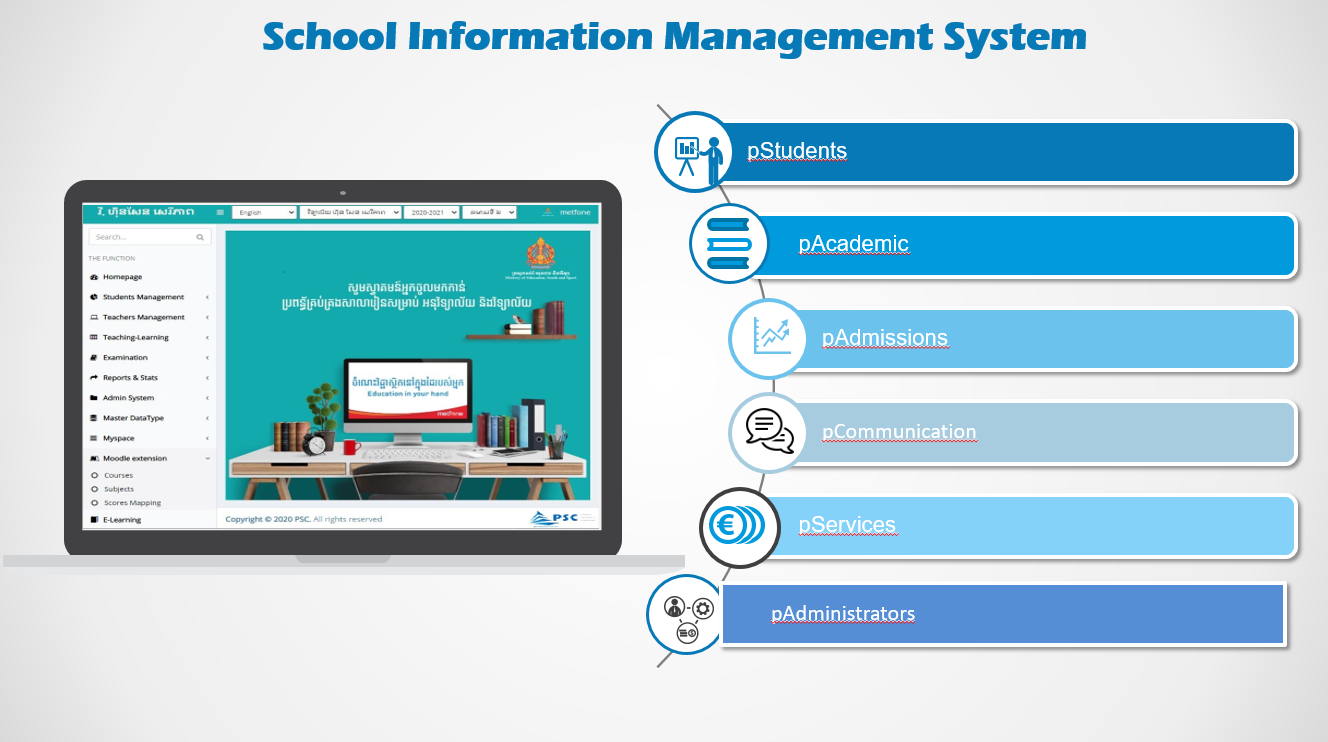 The system allows teachers to view and enter students' attendance, leaves, and mark in their electronic profiles; manage timetable, enter marks for exams; manage classrooms; view and verify their profiles and moreover, send/receive notifications to students and their parents. On the other side, students and their parents also can check attendance, timetable, fee details and exam dates. They will view their children' profiles anytime, receive notifications from teachers and send requirements to schools. This system has provided a feature that connects parents, students, teachers, and school admins effectively. All of activities will be executed online by smartphones or computers in the most convenient way.
The Student's electronic record that manages all personal information, learning processes and activities during the time of enrollment & can be transferred between schools in the areas.
All of these modules will support managers, teachers and staff who can complete their work from taking courses to organizing exams and then assessing their students correctly, fast and most effective.
This module can support all steps so that applicants can apply to the school & how staff can best take care of their candidates through school portal.
All of these tools help staffs can monitor and take care for students, manage their movement activities as well as the services students take while they joining at school.
Integrated with Moodle by auto synchronization: Teachers, Students, Course & Grades
Communication between the school and the family or the student is a fairly important module in our system. With Chat bot, SMS & Email or through our portal. Parents, Students can track their learning process and activities quickly & promptly.
With Dashboard, Static or Fees tools assists administrators in setting up information for their schools, managing staffs and collecting student fees. Can control over your school operations, your student's data will be starts to support in determine the strategy for your schools in the future.
3. Technology of the system
The system uses today's leading technologies, bringing high quality products with many useful features: App mobile, Microsoft Cloud, SMS Gateway, Digital Publishing, …
App mobile for Students, Parents & Teachers support teaching & learning or follow academic process can easily & quickly.
Single sign on via: Email, Phone Number, Student ID, or Teacher ID
SMS Gateway is a gateway to mobile carriers, allowing SIS system using SMS messages as a communication between teacher with student and parents. (For example: learning situation, student's score, class attendance, class schedule etc.)
Microsoft Cloud Technologies
Azure is a cloud computing platform and online portal that allows you to access and manage cloud services and resources provided by Microsoft. These services and resources include data storage and transformation, depending on requirements.
The system allows to import data from scanned files, edit, edit, redesign, publish, and present on display platforms.